THEORY is good, EXPERIENCE is better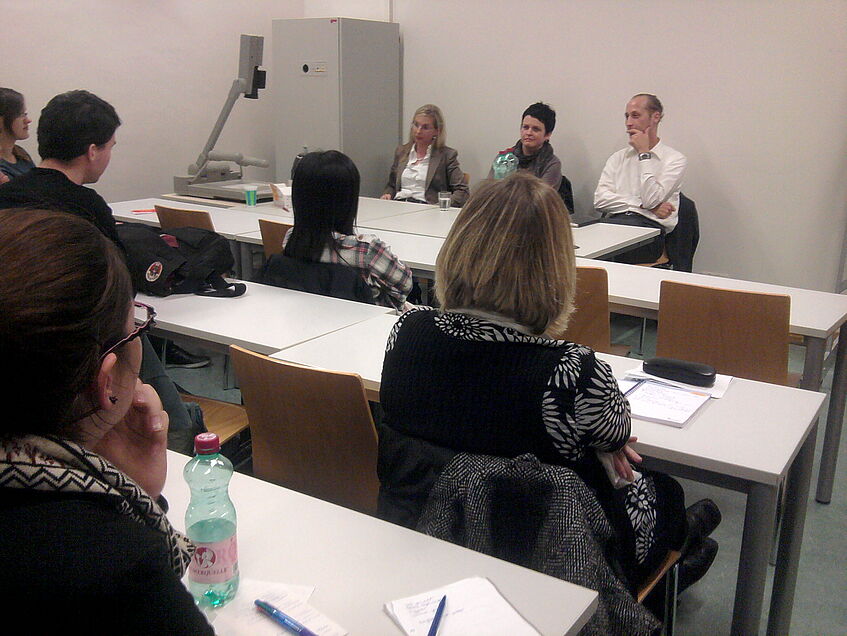 THEORY is good, EXPERIENCE is better
Whereas the 19th century was dominated by Europe and the 20th century by America, the 21st century belongs to nobody yet. But chances are good that Asia, and in particular East Asia will play a significant role. In any case, Asia for many individuals and firms simply is the place to be.
The Chair of East Asian Economy and Society does not only provide the contextual knowledge about the region and methodological and language skills for highly required future regional experts. Not all of our graduates want to become academics, and even those who do will profit greatly from gaining experience in a job environment outside the university. In cooperation with companies and other practitioners from the field, the Chair of East Asian Economy and Society started an initiative to raise the employability of our graduates.
As in the past, we will continue inviting practitioners regularly to share their experiences with our students during informal discussions. In addition, from now on students can apply for East Asia related internships at renowned companies and organizations from various fields. These are not chosen arbitrarily, but in close dialogue and cooperation with the Chair of East Asian Economy and Society. The goal of this cooperation is to give our students the opportunity to write their MA or PhD theses in cooperation with our partners and thus combine their academic and their practical working experience.
We will keep adding partners to our list. Our first cooperation partner Dr. Schönheit + Partner Consulting, a German based consulting agency (Cologne area), offers paid internships and searches for students who can write theses on a number of topics that are listed here. In case you are interested:
please contact our partner directly and discuss the details of internship and research topic, and
contact Prof. Frank who will then discuss the academic aspects of your thesis.
INTERNSHIP: Dr. Schönheit + Partner Consulting
Dr. Schönheit + Partner plant und realisiert zukunftsweisende Fabriken. Unsere Kernkompetenzen Produktionssystematik, ganzheitliche Fabrikplanung und Architektur stellen einen nachhaltigen Vorsprung für unsere Kunden sicher. Eingebettet werden diese Kernkompetenzen in unseren Beratungsansatz Lead to Lean® welcher die strategische Komponente für eine erfolgreiche Beratung liefert. Wir arbeiten in unseren Projekten in interdisziplinären und internationalen Teams für unserer Kunden weltweit.
Zur Unterstützung unseres schnell wachsenden Asien Bereichs suchen wir Praktikanten und schreiben verschiedene Themen für Master- / Doktorarbeiten aus. Als Student in unserem Hause bieten wir Ihnen wertvolle Erfahrungen in einem internationalen Beratungsunternehmen und einen direkten Praxisbezug für Ihre Abschlussarbeit. Alle Arbeiten werden bei uns durch einen Mentor begleitet. Sie werden im Vorfeld und parallel zu Ihrer Arbeit in unser Projektgeschäft eingebunden, so dass ein Praxisbezug Ihrer Arbeit sichergestellt ist.
Website von Dr. Schönheit + Partner Consulting
Events
May 3rd, 2011: Business Dinner wirh Dr. Achatz (report)
November 8th, 2011: East Asianists and the Job Market (announcement) (report)
November 22nd, 2011: East Asianists and the Job Market (announcement) (report)
December 5th, 2011: East Asianists and the Job Market (announcement) (report)
October 15th, 2012: East Asianists and the Job Marke (announcement) (report)