Basic Data Protection Ordinance (DSGVO)
The DSGVO came into force on 25.05.2018; therefore, EcoS staff cannot answer questions about personal data on the phone. We are committed to protect personal information, so students must contact us using an e-mail from their designated u:account [webmail]. If you contact us through the message box in our Homepage, leave your official university e-mail account so we can reply.
To access information concerning admission status, payment methods, grades, among others, please use the u:space platform.
The data protection declaration [in German] of the University of Vienna contains, among other things, a list of the data that the University of Vienna may store about you.
Directions
We are located at the AAKH Campus of the University of Vienna. The closest tram station to our campus is 'Lange Gasse', which people can reach using the trams: 5, 33, 43 or 44. Cross the street to enter the campus and walk through Court [Hof] 1 to Court [Hof] 2. The Chair of East Asian Economy and Society is on entrance [Eingang] 2.3 on the left side of Court [Hof] 2. For more details, please see the map below.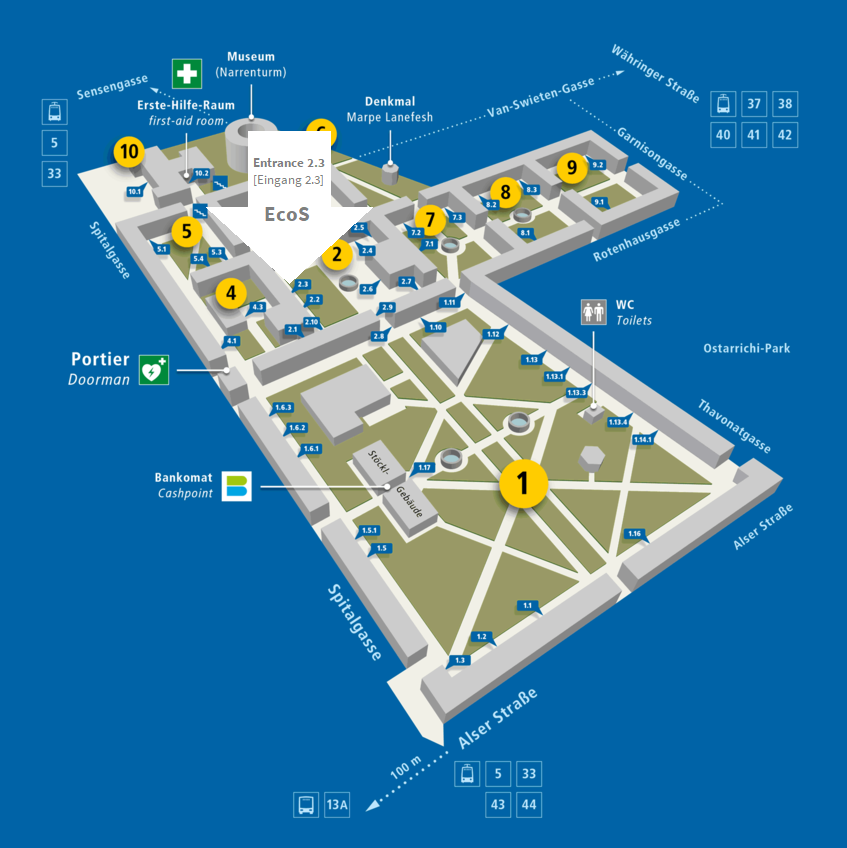 Our Offices
The EcoS offices of Prof. Frank (2F-01-43) and the EcoS Staff (2F-O1-27A) are located in the Institute of Sinology (Entrance 2.3). The Seminar Room (OAW) is located in the Institut of Korean Studies (Entrance 5.4). Please find the locations of our offices and seminar room on the map displayed below.